Better Denture Options
January 1, 2015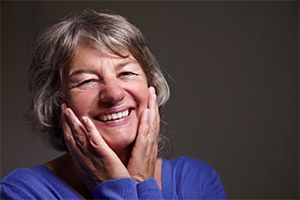 ---
Many people don't know exactly what dental implants are. They are actually designed to feel like your natural teeth, with two parts known as the abutement or dental implant post, and the porcelain crown which is cemented on top of the abutement. This small titanium post rooted in your gums provides a stable foundation for the crown which work just like your natural teeth. Dental implants offer a superior level of comfort and appearance which are simply unmatched.
How Implants Compare to Dentures
The disadvantages of traditional dentures are many. Their construction may require an undesirable waiting period for you to receive your new smile. Dentures have to be taken out and cleaned frequently. They commonly move or may even fall out when eating and talking which many find to be a distraction. Messy adhesives are required, which food particles tend to get trapped within. Dentures can also lead to receding gums and reduced tasting capabilities. In addition to this, plastic dentures generally require replacement every 5 to 7 years.
On the other hand, dental implants are secured within the jawbone, which holds many advantages. There is very little discomfort involved in the initial procedure, and implants have the ability to last a lifetime. Implants look and feel like your own teeth and you care for them in the same way. You can find comfort in the fact that they do not slide around when you are eating or talking. An excellent benefit is that implants can improve your self-esteem, as you can take pride in your beautiful healthy smile.
About the Procedure
The first step in the process is the development of an individualized treatment plan. A consultation with the dentist during the initial exam includes imaging of your teeth, discussion of treatment options and answering questions regarding your dental and medical history.
Step two in the process is the actual placement of the dental implant. The tooth root implant, a small post made of titanium is placed into the bone socket of the missing tooth or teeth. Temporary teeth may be placed to form a strong foundation for the permanent replacement teeth. Allow an afternoon of rest and basic over-the-counter pain medication before returning to your normal work schedule.
The third step in the process involves the placement of the abutment. An abutement is a small connector post that attaches to the post to securely hold the new tooth. Additional connecting devices in the case of multiple replacement teeth may also be placed at this stage.
The final step in the procedure is the placement of the custom-made crown or replacement tooth. Multiple teeth also require the placement of a bridge or custom-made crowns. Replacement of all of the teeth also involve an implant-supported overdenture. The overall healing process can take from 6 to 12 weeks.
Are Implants Right for You?
More than 100,000 dental implants are placed each year. An eligible candidate for dental implants includes anyone healthy enough to undergo a routine dental extraction or oral surgery. The dentist also needs to determine if the patient has enough bone to hold the implant. It is also important that they are committed to good oral hygiene and agree to regular dental visits. Heavy smokers and those suffering from diabetes or heart disease should check with their doctor first.
Dental implant costs can vary depending on each case; we offer a free consultation for dental implants to learn more.
Dental implants have a success rate of up to 98%. Enjoy a more attractive appearance with the help of dental implants. Trust Dr. Jacobson and her professional team to give you the new smile you have been dreaming of.
Sources:
http://www.webmd.com/oral-health/guide/dental-implants

http://www.aaid-implant.org/dental-implant-options/