Dental Options for Missing Teeth
June 16, 2015

---
Sometimes an adult may lose a tooth due to an accident, periodontal disease, or as a consequence of a chronic condition such as diabetes or rheumatoid arthritis. If you are living with missing teeth, know that you are not alone.  Up to 178 million adults in the United States are missing at least one tooth and this figure is expected to grow over the next two decades.
The Impact of Adult Tooth Loss on Daily Life
As to be expected, adult tooth loss has an impact on a person's daily life. You rely on your teeth to help you speak properly and eat the foods you love such as a bright red, crisp apple or a juicy steak.  A study by the faculty of the Jordan University of Science and Technology found that adult tooth loss had a significant impact on the quality of life.  Aside from mere cosmetic concerns, participants in the study reported elevated pain levels, dissatisfaction with appearance and oral comfort, as well as an impact on their eating abilities.  According to the National Institute of Dental and Craniofacial Research, the average number of a teeth the adult population has decreases with age.  The 20 to 34 year old age group has an average of 26.9 teeth decreasing to only 22.3 teeth on average in the 50 to 64 year old age group meaning that many people are living with increasing tooth loss as they age.
Missing teeth impact more than your personal appearance.  Over time, the space left by missing teeth can cause your remaining teeth to shift into the open space.  Bone loss can occur as a result.  Also, those who are missing a significant number of teeth will begin to appear older than they are as the skin around their mouth is not supported adequately and begins to sag.  
Dental Options for Missing Teeth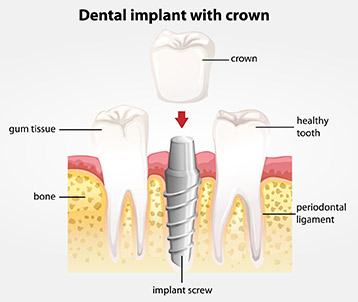 Luckily, there are many dental options for missing teeth. Dentures, crowns, and bridgework can all work to relieve the pain of missing teeth and  greatly improve your smile.  Dental implants are also an additional way to improve your oral health.  With implants, you can eat foods you love that may be impossible with dentures such as popcorn or carrots.  They are permanent oral structures that you never have to take out and clean; you treat them and brush them just like your natural teeth.  
Self conscious about your smile?  At Jacobson Dental, Dr. Connie Jacobson understands how self conscious you may feel about your missing teeth.  She will assess your individual situation and consult with you on a plan to repair or replace your teeth no matter their current condition.  Her personal touch will put even the most apprehensive patients at ease. Is worry about the cost of treatment keeping you from making an appointment?  Jacobson Dental is a premiere Delta Dental provider and offers financing for those who need it.
Source
http://www.webmd.com/oral-health/news/20051111/9-risk-factors-for-tooth-loss
http://www.ncbi.nlm.nih.gov/pubmed/19637520