Metal Braces or Invisalign®
There are a number of factors that determine which correction method will work best for you. Ultimately, you want to feel confident and happy about your smile during the entire correction process.
Comparison of metal braces to Invisalign®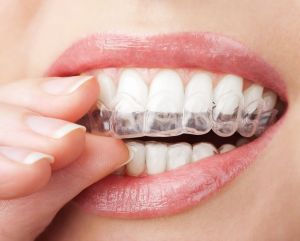 Your individual case will determine the appropriate course for braces, traditional or Invisalign.®  We will discuss this with you during your consultation; the following comparison may help you learn more about each method.
Traditional Braces. Metal brackets or braces have a long history of correcting countless smiles. With advancing technology in orthodontics, the brackets can be tooth-colored, and more discrete. Due to constant pressure on the teeth, the process tends to be shorter and more effective for difficult cases. Every individual is different and your experience with braces may vary, you may feel your teeth shifting or have more sensitivity to wires – both of which can subside after a short time. You may find that eating certain foods can be a bit more difficult. We may recommend extra brushings or swishing with water when eating or drinking foods that have a potential for staining.  
Invisalign®. If you are a candidate for retainer braces, Invisalign® may be a good option for you.  First appearing in 2000, Invisalign® has become a popular and invisible way to correct smiles. Using a series of customized clear trays, teeth are moved into place by slow changes made to the tray until you have a beautiful smile. This system is ideal for adults and teens that may be self-conscious if traditional braces with metal brackets were used. Because there are no cumbersome metal braces that you see and feel everyday, many patients are surprised at how quickly treatment feels to them. Unfortunately, not all cases can be completely corrected through Invisalign®– very complex situations often need more involved solutions.  We give you a complete overview of your treatment options to make you aware of any possible need for additional straightening methods.
How much does Invisalign
® 
cost? 
We understand your need to know the cost for orthodontics. We will discuss your needs in a treatment plan and the cost you can expect for orthodontic treatment during your free consultation. 
There are many factors that determine how much your orthodontic plan will cost. Because of the differences in each treatment plan, your cost is unique to you. 
Give us a call today for your consultation!
Will my insurance cover Invisalign®?
Whether or not your insurance covers Invisalign®  or traditional braces will depend on your case. We accept insurance for orthodontic care if you have it available and we are happy to assist you in filing your insurance claim. We also offer payment arrangements using Care Credit™ for easy and convenient financing options to help fit your budget.