Safe, Effective, and Simple!
The professional alternative to over-the-counter whitening options!
Ready To Go
With pre-filled, disposable trays, Opalescence® Go lets you take your whitening to go!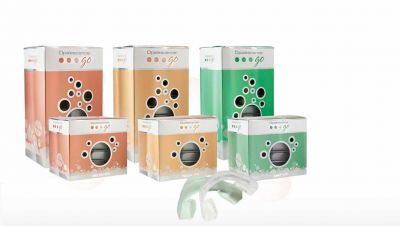 We are excited to bring you a very easy professional results whitening solution for your teeth. Opalescence® Go is a simple, fast, and great-tasting way to start a whitening treatment or for whitening touch-ups as soon as you open the package. This treatment uses a soft tray that can be "molded" to the shape of your mouth -- no need for impressions or custom-made trays!  
Opalescence® tooth whitening gel contains PF (potassium nitrate and fluoride). Potassium nitrate which has been shown to help reduce sensitivity

. Plus, fluoride has been shown to help reduce cavities and strengthen enamel. Together they help to improve the overall health of the teeth.

No impressions, no models, no lab time
Sleek and comfortable; adapts to any smile
Discreet, clear tray material
Depending upon the strength we recommend you wear the trays for 5-10 days total and either 30-60 minutes per day or 15-20 minutes.
Choose your flavor: Peach, Melon, and Mint available
Why choose professional whitening instead of over-the-counter products?
The best way to get the whitening results you want always comes from working with your dentist because:
we know your oral health and specific concerns that may affect your results
we can make the best recommendation for you specifically to get the best results in a time frame that works for you 
we can also help you understand how the whitening process works
we monitor your progress
we treat any sensitivity issues that may arise
Opalescence® Go Instructions (PDF - English)
Contact us
 to learn more about Opalescence® Go, an exciting new teeth whitening option today.